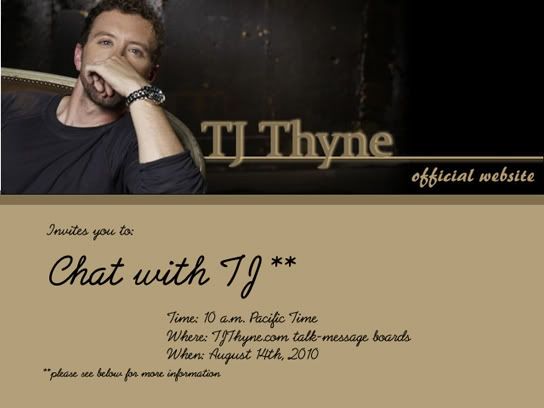 We are going to try something new here at tjthyne.com. TJ has generously agreed to chat with the members for about an hour, about once a month, here on the message boards. We will be setting up a thread where you can ask him questions/chat with him, and he will be here on the day and at the time announced and will answer your questions. The times and dates will be announced hopefully a week or so in advance but we can't guarantee we'll always know that far in advance, which is the case for this first one, and we are sorry it is such short notice.

TJ hopes to be available to chat each month after 3 new episodes of Bones Season 6 have aired. This is of course dependent on TJ's schedule. We tried to find the best time for the majority of our members, but we do understand that for some of you, it will be very early in the morning/middle of the night. Due to TJ's schedule and to time differences, there is just no way to have a chat that is convenient for everyone in all time zones. We apologize for this but we do hope to try always to have them on weekends (possibly Saturdays) so that if you do want to attend at least it will not be a work day for most people.

We are going to have a trial chat on the date listed above, to see how it goes and whether the message boards can handle it. You do have to be a member of the boards to post and join in on the chat. We hope that people will stick around and participate on the boards the rest of the month and not just show up for chats. This is something TJ wants to do for those loyal fans that come here to his site and take the time to join and participate.

A few guidelines:


Even though this will be done on a thread, and can presumably hold as many posts as we wish, we do hope you'll all be nice and ask him one question then wait and allow him to answer it and to answer everyone before asking him another. Comments are fine; just remember we want him to be able to answer as many people as he can in the hour he will be there, so we ask that you not post constantly making it hard for him to keep up and maybe making him miss a question from someone.
Please do not ask TJ personal questions. He's nice and he'll answer almost anything, but the purpose of this is to allow fans to ask him questions about his work.
Questions do not have to be limited to Bones, and out of the box questions are fine, just keep them clean and family friendly. The more you ask him about Bones the better though, since that is part of the reason he is doing this, so he can talk to us and answer any questions about the episodes in Season 6.
Make it fun for TJ, be creative. He tends to be asked the same questions over and over so if you are able to come up with something new, he'll probably enjoy chatting more. TJ's favorite color is blue. We are telling you this so we can hopefully have more original questions asked.
When TJ says he has to leave, do not continue asking him questions. He has a busy schedule and he will be taking time from his day off to spend with us. He may or may not have been able to answer a question from everyone; if he hasn't, we are sorry, but if he says he needs to leave, any other questions will have to wait until the next chat.
Please check the tj's skeletons section and see what he has already answered, and please do not ask any of those questions again.
The chat IS moderated to an extent, meaning if we feel a post is not appropriate, it will be removed or we will ask TJ not to answer it and give a warning.
If you ask a question and TJ does not answer it, we are going to assume it is because he prefers not to, don't keep asking him over and over. We will do our best to make sure he doesn't miss anything.
We will be announcing any changes to the chat set up after we have gone through the trial chat in August. The first official Bones Season 6 chat will most likely be in October, date to be determined later. Whether there is a chat every month depends on TJ's schedule and/or the Bones Season 6 schedule. If you have any questions about the chat or rules, you can ask them here, or send one of us (skftex or ThyneAlone) a pm and we'd be happy to answer them.
Here is a helpful link for those of you outside of the United States, to help you figure out what time the chat will take place for you. TJ is in Los Angeles.
http://www.timeanddate.com/worldclock/
Thanks everyone, and let's make this a great experience for TJ, so he'll want to continue doing it.
Sharon & Steph
[/color]